The unique formula of GSHRED CLA helps to break down stubborn body fat while preserving and promoting lean muscle acquisition during dieting.
High quality product that is safe and effective.

Supports Muscular Size and Strength
help normalize blood
sugar levels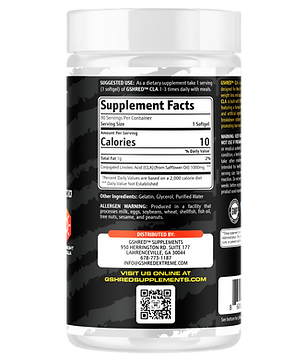 PREMIUM INGREDIENTS ONLY
GSHRED CLA  is made up of the following ingredients:
​Conjugated Linoleic Acid 1000mg
What is CLA?
CLA, or Conjugated Linoleic Acid, is a naturally occurring fatty acid found in dairy and meat products. CLA can help support weight management over time by helping the body burn fat for energy.
Why you should take CLA?Research indicates that incorporating CLA into your fitness regimen can potentially promote the utilization of fat as a source of energy and facilitate the development of lean muscle mass. This is believed to occur by enhancing the activation of the body's fat storage mechanisms, which in turn stimulates the burning of fatty acids for fuel while preserving muscle tissue. By doing so, CLA may help to optimize your body composition and improve your overall physical performance.
What are the benefits taking CLA?• helping with weight loss / Boosting Metabolism• muscle-building and strength improvements• anticancer effects• bone-building benefits• improving digestion• helping to normalize blood sugar levels

FULL TRANSPARENCY
All products and labels are fully transparent with no proprietary blends, ever!
FULL TRANSPARENCY
Gshred uses only the highest quality ingredients, many are patented.​
FULL TRANSPARENCY
Ethically sourced high quality products. You'll always get what the label says.