PRE WORKOUT- FRUIT FUSION
EXTREME PREWORKOUT is an Xtreme Super Pre-Workout built to promote insane energy, pump, and endurance during workouts! The new deaigned Extreme formula is powered by an exotic blend of energy and performance-enhancing ingredients designed to deliver the results you need to make it through even the most difficult activities. LET'S BE GREAT!
EXTREME PREWORKOUT 
Suggested Use: As a dietary supplement mix 1 serving (1 scoop) of EXTREME PREWORKOUT with 8-16 fl oz of cold water. Drink EXTREME PREWORKOUT 15-30 minutes prior to activity. Start with 1/2 serving to determine tolerance.
INGREDIENTS:  
Acetyl-L-Camitine 1000mg
Caffeine Anhydrous 200mg
N-Acetyl L-Tyrosine 200mg
Green Tea Leaf Extract (50% EGG) 250mg
L- Camitine Fumarate 200mg
Theobroma cacoo Seed Extract 100mg
Rauwolfia vomitorio Root Extract mg
L-Theanine 175mg
Ginger Root Powder 50mg
Black Pepper Fruit Extract (std. min. 95% Piperine) 5mg
*Daily Value not Established
Other Ingredients: Natural and Artificial Flavor with other natural flavors, Malic Acid, Citric Acid, Gum Arabic, Silica, Calcium Silicate, Sucralose, Acesulfame Potassium (Ace-K)
HIGH GYM PERFORMANCE STARTS WITH
EXTREME SHRED
BUILD A LEAN AND
TONED BODY
BECOME THE BEST
VERSION OF YOURSELF.
PROMOTE EXTREME ENERGY,
PUMP, AND ENDURANCE
DURING WORKOUTS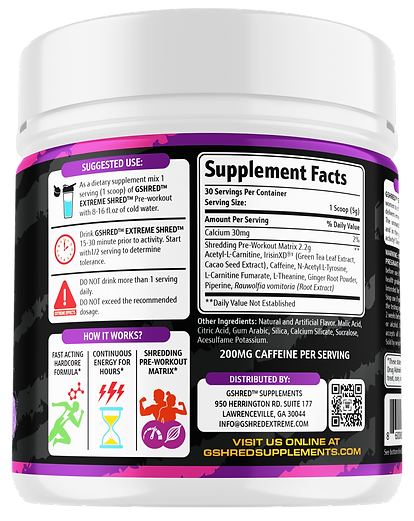 PREMIUM INGREDIENTS ONLY
Extreme shred pre-workout comes in two flavors: grape and mango. And is made up of the following ingredients: 
Calcium - Influences energy balance to maintain a good balance flow of energy and strengthen your bones.
Potassium – Potassium drives muscle growth. It works to ensure your muscle tissue grows and helps your muscles use energy during a workout.
L-Citrulline Malate - Reduces fatigue during workout sessions. It will decrease your fatigue and will help you build endurance.
Caffeine – Gives you energy and boosts metabolism. Caffeine increases your heartbeat and revs up your metabolism. This way you're able to feel more energetic and alert during your workouts. 
Green tea leaf extracts – Due to their high antioxidant content, green tea life extracts improve body composition. It also helps with post-workout recovery and weight loss.
L-Phenylalanine - Involved in the production of neurotransmitters to boost dopamine production in the brain. It betters your mood and provides peaceful feelings.
Agmatine Sulfate - Improves athletic performance for a better workout.
This helps you set new records in the gym and perform better in each set.

FULL TRANSPARENCY
All products and labels are fully transparent with no proprietary blends, ever!
FULL TRANSPARENCY
Gshred uses only the highest quality ingredients, many are patented.​
FULL TRANSPARENCY
Ethically sourced high quality products. You'll always get what the label says.