FISH OIL
GShred's Premium Fish Oil: 
Rich in Omega-3 fatty acids, DHA and EPA, our fish oil not only nourishes your brain but also supports optimal cognitive functions. Think clearer, remember more, and outshine with enhanced focus. Heart's Best Friend: Promote cardiovascular health with every soft gel. Regular intake can support reduced inflammation, lower triglyceride levels, and foster a heart that beats with vigor and vitality.
Radiant Skin & Lustrous Hair: Dive into the secrets of ageless beauty. The essential fats in our fish oil moisturize your skin from within, combat dryness, and give your hair that enviable shine.

🦴 Joint Flexibility: Keep moving, dancing, and exploring! Our fish oil is a natural lubricant for your joints, reducing stiffness and encouraging smooth, pain-free movement



Supplement Facts

100 Servings Per Container
Serving Size: 
1 Softgel
Amount Per Serving: 
% Daily Value
Total Fat 1g:  
1%
Vitamin E 5IU: 
17%

Omega-3 Fish Oil 1000mg
EPA (eiosapentiaenoic acid) 180mg
DHA (docosahexaenoic acid) 120mg
*Daily Value Not Established

Other Ingredients: Gelatin, Glycerin, Purified Water.
SUPPORT MEMORY AND
FOCUS
Gshred FISH OIL is an Ultimate Heart Health Supplement designed for Men & Women to help promote cardiovascular functioning and support memory and focus.
PROMOTE
CARDIOVASCULAR
FUNCTIONING
INCREASE "GOOD"
HDL CHOLESTEROL
Custom content
Describe your products, collection, content etc...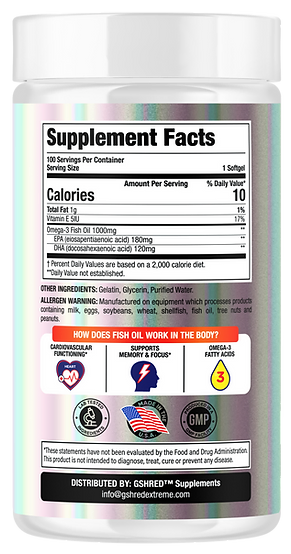 PREMIUM INGREDIENTS ONLY
Fish Oil is made up of the following ingredients:
​FISH OIL is built with Pure Ingredients, delivering a refined product that is free from fillers and unnecessary additives. Fish oil has been shown to help increase "good" HDL cholesterol, lower triglycerides (or blood fats), reduce blood pressure, prevent plaques from forming in arteries. Daily supplementation of fish oil is essential as the human body does not produce Omega-3 fatty acids on its own
Vitamin E 5IU
Omega-3 Oil 1000mg
EPA (eiosapentiaenoic acid) 180mgDHA (docosahexaenoic acid) 120mg

FULL TRANSPARENCY
All products and labels are fully transparent with no proprietary blends, ever!
FULL TRANSPARENCY
Gshred uses only the highest quality ingredients, many are patented.​
FULL TRANSPARENCY
Ethically sourced high quality products. You'll always get what the label says.