PURE CAFFEINE
GShred's Pure Caffeine: Unleash the Power of Precision Energy

💥 Streamlined Performance: With 100 potent servings in every container, GShred's Pure Caffeine is precision-engineered for those who seek pure, uncompromised energy without the frills.

🚀 Pure Kick: Each capsule delivers a robust 200mg of Caffeine Anhydrous, refined to its purest form, ensuring you get a quick, clean energy boost whenever you need it.

🧠 Focus & Clarity: Wave goodbye to mental fog and distractions. GShred's Pure Caffeine hones your concentration, keeping you razor-sharp and on task.

⚡ Sustained Mental Alertness: Whether it's a challenging workout, a long workday, or a study session, our formula promotes consistent mental alertness, ensuring you're at the top of your game, every time.

💡 Clean Energy, No Crashes: Experience the power of steady, sustained energy. No jitters. No crashes. Just pure, lasting energy to fuel your most demanding days.

🌿 Transparent Ingredients: We believe in honesty. Beyond our high-quality Caffeine Anhydrous, our capsule contains minimal additional ingredients, ensuring you're consuming only what you need.

How Caffeine Works in the Body:

Supports Energy & Focus: Caffeine stimulates the central nervous system, giving you a natural surge of energy and heightened focus.
Promotes Mental Alertness: By blocking adenosine, a neurotransmitter linked to sleep, caffeine ensures you remain alert and awake.
Clean Energy for Hours: The slow metabolic processing of caffeine ensures you enjoy its benefits for several hours, allowing you to perform at your peak.
Dedicated to Excellence: GShred's Pure Caffeine stands as a testament to purity and performance. For the days when you need that extra kick, trust in the reliability and potency of GShred.

Ignite your potential. Experience the unparalleled power of GShred's Pure Caffeine today. ⚡🔥



Supplement Facts
100 Servings Per Container
Serving Size: 1 Capsule
Amount Per Serving
% Daily Value

Caffeine Anhydrous 200mg
**
**Daily Value Not Established
Other Ingredients: Maltodextrin, Gelatin, Magnesium Stearate, Silica, Titanium Dioxide
HOW DOES CAFFEINE THE WORK IN BODY?
SUPPORT
ENERGY & FOCUS*
PROMOTE MENTAL ALERTNESS*
CLEAN ENERGY FOR HOURS*
Elevate your energy with
Caffeine
GSHRED CAFFEINE is an Ultimate Energy and Focus Product designed to promote mental alertness and support energy and focus!

improved athletic performance
Low risk of type 2 Diabetes
Custom content
Describe your products, collection, content etc...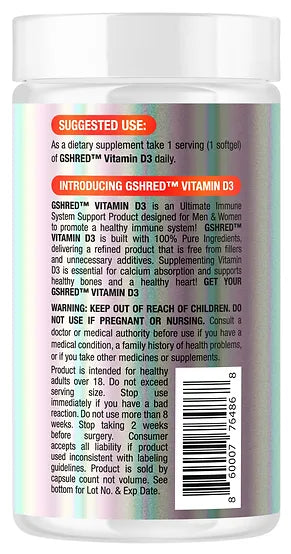 PREMIUM INGREDIENTS ONLY
Caffeine is made up of the following ingredients:
​D-Aspartic Acid – This mini powerhouse produces testosterone in your body.
​It helps to increase lean mass and build more muscle.
​Magnesium Stearate – Research shows that Magnesium Stearate increases both free and total testosterone in your body. Paired up with exercise, it can dramatically boost your testosterone levels.
​Maltodextrin - Increases the production of testosterone, and it increases your sex drive.
​This helps to improve your libido and spice up your sex life.
​Silica - Induce weight loss and lower cholesterol to protect
heart health. It also increases testosterone secretion in the cells to boost testosterone levels.

FULL TRANSPARENCY
All products and labels are fully transparent with no proprietary blends, ever!
FULL TRANSPARENCY
Gshred uses only the highest quality ingredients, many are patented.​
FULL TRANSPARENCY
Ethically sourced high quality products. You'll always get what the label says.