VITAMIN D3
GShred's Vitamin D3: Embrace the Sunshine Vitamin in its Purest Form

☀️ Consistent Radiance: GShred introduces 100 illuminating servings of Vitamin D3, masterfully encased to deliver the essence of sunshine to your daily routine.

🏅 Potent Dose, Singular Focus: Each softgel packs a punch with 50mcg of Vitamin D3, offering a generous 250% of your daily value. This potent dosage ensures your body receives the right amount to foster optimal health and vitality.

💪 Bone & Immune Booster: Often lauded as the bone vitamin, D3 goes beyond. While it's instrumental in maintaining healthy bone density, it also plays a critical role in bolstering your immune response, acting as your body's silent guardian.

🧠 Mood Elevator: Sunshine isn't just about warmth; it's also about well-being. Vitamin D3 has been linked to mood regulation and can act as a natural antidote to seasonal blues.

💧 Pure & Simple Formula: We value transparency. Our softgel contains premium Vitamin D3 suspended in Soybean Oil for optimal absorption, with a capsule made from simple, safe ingredients like Gelatin and Purified Water.

Why GShred's D3?
In a world where indoor lifestyles are increasingly common, it's easy to miss out on our daily dose of sunshine. GShred's Vitamin D3 is the perfect solution, ensuring you never have to compromise on your D3 levels, irrespective of the weather or season.

Dedication to Wellness: At GShred, we're committed to bringing you supplements that complement your lifestyle and enhance your well-being. Our Vitamin D3 stands as a beacon of this commitment, offering the purest form of this essential nutrient.

Step into the light. Let GShred's Vitamin D3 guide your journey to radiant health and well-being. ☀️💛



Supplement Facts
100 Servings Per Container Serving Size
Amount Per Serving: 1 Softgel

% Daily Value
Vitamin D3 (as cholecalciferol) 50mcg 250%
**Daily Value Not Established
Other Ingredients: Soybean Oil, Gelatin, Glycerin, Purified Water
ELEVATE YOUR HEALTH WITH
VITAMIN D3
HEALTH IS WEALTH with VITAMIN D3 By GSHRED SUPPLEMENTS.

Supercharge your
testosterone levels
Improve your libido
and sex drive
Boost focus and
concentration
PREMIUM INGREDIENTS ONLY
D3 is made up of the following ingredients to help build strong muscles with calcium it builds strong bones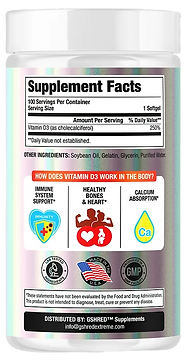 FULL TRANSPARENCY
All products and labels are fully transparent with no proprietary blends, ever!
FULL TRANSPARENCY
Gshred uses only the highest quality ingredients, many are patented.​
FULL TRANSPARENCY
Ethically sourced high quality products. You'll always get what the label says.