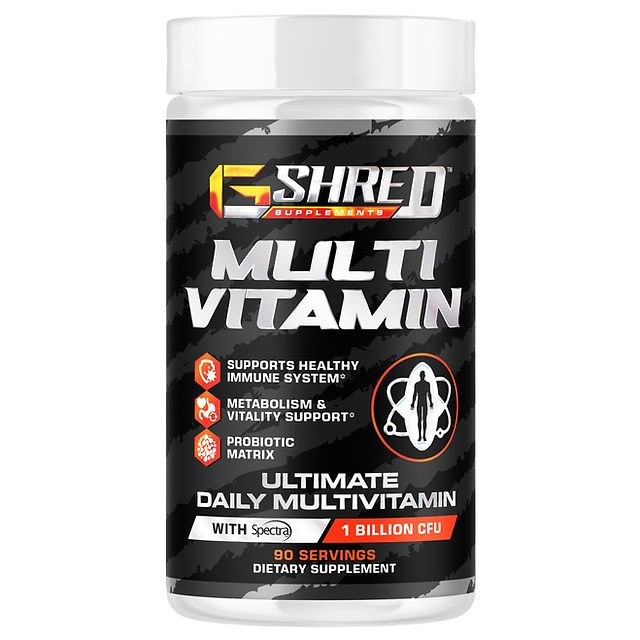 MULTI VITAMIN
GShred's Elite Multi-Vitamin: The Pinnacle of Nutritional Excellence

🔥 90 Potent Servings: GShred brings you the epitome of holistic wellness with 90 servings, meticulously curated to cater to every dimension of your health.

🌈 Vitamin & Mineral Symphony: From Vitamin A to Zinc, our formula houses a powerful range, ensuring each essential nutrient contributes to your vibrant health:

Radiant skin with Vitamin A
Immune boosters like Vitamin C and D
Nerve & muscle function enhancers like Magnesium and Potassium
Antioxidant champions like Vitamin E and Selenium
And a plethora of B vitamins for sustained energy and cognitive prowess.
❤️ Cardiovascular Support Matrix: Protect your heart and enhance circulatory health with our unique blend. With potent components like CoQ10, Garlic, and Resveratrol, every beat counts towards a healthier you.

🌿 Liver Detoxification Matrix: Featuring Milk Thistle, our formula is dedicated to shielding and rejuvenating your body's master detoxifier, ensuring optimal liver function.

💥 Metabolic Support Matrix: Elevate metabolism and support weight management with our hand-picked elements, including Green Tea Extract and Dandelion Root.

🍓 Fruits, Veggies & Herbs Spectrum: A daily serving is akin to a nutritional rainbow, brimming with antioxidants and phytonutrients. From the brain-boosting berries to the inflammation-fighting turmeric, experience the full palette of nature's bounty.

🌺 Probiotic Matrix: Digestive health is foundational. Our blend of ten potent probiotics is a game-changer, fostering a balanced gut flora and optimizing digestive processes.

Beyond Just Supplements: GShred's Elite Multi-Vitamin isn't just a supplement; it's a comprehensive health solution. Our formula speaks to our dedication to quality, purity, and efficacy. With research-backed ingredients and a complete profile, we promise not just improved health but a life transformed.

Energize, fortify, and thrive with GShred's Elite Multi-Vitamin. Every capsule is a step towards unparalleled well-being. 🌟🚀




90 Servings Per Container Serving Size
Amount Per Serving: %DV
Vitamin A (as Beta Carotene) 375mcg RAE: 417%
Vitamin C (as Ascorbic Acid) 93mg: 103%
Vitamin D (as Cholecalciferol) 14mcg: 70%
Vitamin E (as D-Alpha Tocopherol Succinate) 63mg: 420%
Thiamine (as Thiamine HCI) 8mg: 667%
Riboflavin 7.6mg: 585%
Niacin (as Niacinamide) 3.2mg: 20%
Vitamin B6 (as pyridoxine HCI) 8.6mg: 506%
Folate (as Folic Acid) 267mcg DFE (160mcg Folic Acid) 67%
Vitamin B12 as (Methylcobalamin) 20mcg
Biotin 12mcg
Pantothenic Acid (as Calcium D-Pantothenate) Smcg
Calcium (Calcium Carbonate) 260mg
833%
40%
20%
20%
Magnesium (as Magnesium Glycinate Chelate) 8.4mg: 29%
Zinc (as Zinc Bisglycinate Chelate) 2.2mg: 20%
Selenium (as Selenium Citrate) 11mcg
Copper (as Copper Bisglycinate Chelate) 0.2mg: 20%

Manganese (as Manganese Sulfate Monohydrate) 0.5mg: 20%
Chromium (as Chromium Picolinate) 17.5mg: 50%
Potassium (Dipotassium Phosphate) 16.8mg: 0%



Cardiovascular Support Matrix
Coenzyme Q20 (CoQ10) 5mg
Garlic (Fruit) 5mg
Celery Seed 5mg
Resveratrol (Polygonum cuspidatum Root Extract) 2.5mg **
Alpha Lipoic Acid 20mg
Liver Detoxification Matrix
Milk Thistle (Silybum marianum) 50mg Seed Extract


Amount Per Serving
%DV
Metabolic Support Matrix
Dandelion Root Extract 100mg
Green Tea Leaf Extract 50mg
Kelp (Ascophyllum nodosum) 20mcg
Fruits, Veggies, & Herbs (as Spectra")25mg **
Coffee arabica (Coffee Cherry) Extract, Broccoli Sprout (Seed) Concentrate, Green Leaf (Leaf) Extract, Onion (Bulb) Extract, Apple (Fruit Skin) Extract, Acerola (Fruit) Extract, Camu Camu (Fruit) Concentrate, Quercetin (from flower), Tomato (Fruit) Concentrate, Broccol (Floret and Stem) Concentrate, Acai (Fruit) Concentrate, Turmeric (Root) Concentrate, Garlic (Clove) Concentrate, Basil (Leaf) Concentrate, Oregano (Leaf) Concentrate, Cinnamon (Bark) Concentrate, Elderberry (Fruit) Concentrate, Carrot (Root) Concentrate, Mangosteen (Fruit) Concentrate, Blackcurrant (Fruit) Extract, Blueberry (Fruit) Extract, Sweet Cherry (Fruit) Concentrate, Blackberry (Fruit) Concentrate, Chokeberry (Fruit) Concentrate, Raspberry (Fruit) Concentrate, Spinach (Leaf) Concentrate, Kale (Leaf) Concentrate, Bilberry (Fruit) Extract, Brussels Sprout (Edible Head) Concentrate


Probiotic Matrix 1.8mg
Lactobacillus acidophilus, Lactobacillus casei,
Lactobacillus paracesei,
Lactobacillus plantarum,
Lactobacillus rhamnosus,
Lactococcus lactis,
Bifidobacterium bifidum,
Bifidobacterium breve,
Bifidobacterium loctis,
Bifidobacterium longum.

**Daily Value not established
ELEVATE YOUR HEALTH WITH
MULTIVITAMINS
With proper training, diet, and workout regime, Multivitamins can help you build a lean and toned body and accelerate your testosterone growth in no time.
covers your
nutritional basis
Reduces Anxiety
and Stress
keep the body in good
working order
PREMIUM INGREDIENTS ONLY
Multivitaminis made up of the following ingredients to increase your testosterone levels:
Vitamin A
Vitamin C (as Ascorbic Acid) 
Vitamin D (as Cholecalciferol) 
Vitamin E (as D-Alpha Tocopherol Succinate) 
Riboflavin 
Thiamin (as Thiamine HCl) 
Niacin (as Niacinamide) 
Vitamin B12 (as Methylcobalamin) 
Vitamin B6 (as Pyridoxine HCI) 
Biotin 
Magnesium (as Magnesium Glycinate Chelate) 
Zinc (as Zinc Bisglycinate Chelate) 
Selenium (as Selenium Citrate) 
Copper (as Copper Bisglycinate Chelate) 
Chromium (as Chromium Picolinate) 
Potassium

FULL TRANSPARENCY
All products and labels are fully transparent with no proprietary blends, ever!
FULL TRANSPARENCY
Gshred uses only the highest quality ingredients, many are patented.​
FULL TRANSPARENCY
Ethically sourced high quality products. You'll always get what the label says.