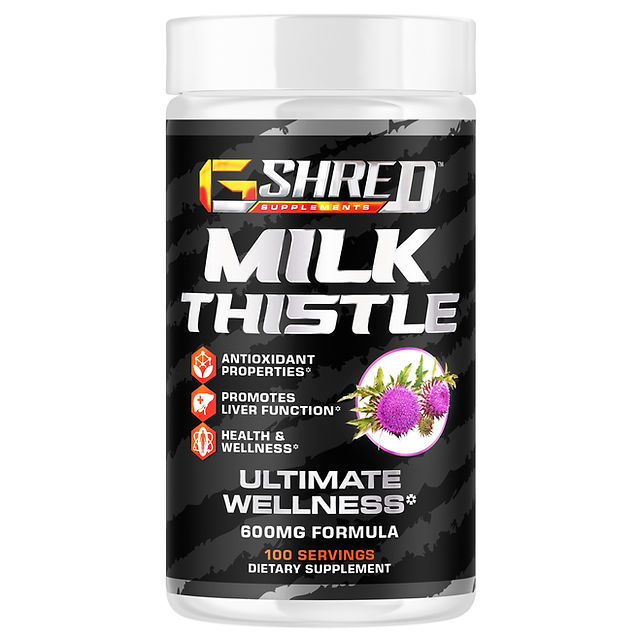 MILK THISTLE
GShred's Superior Milk Thistle: Nature's Shield for Your Liver

Liver's Guardian: Embrace the formidable power of silymarin, Milk Thistle's active compound, renowned for its liver-protecting properties. Detoxify, rejuvenate, and fortify your body's most diligent detoxifying organ with every capsule.

Natural Antioxidant Boost: Combat oxidative stress and free radicals with Milk Thistle's potent antioxidant capabilities. Revitalize from within and glow on the outside.
 Digestive Harmony: Soothe your digestive tract and promote healthy bile production, ensuring smoother digestion and a gut that feels at ease, meal after meal.

Holistic Health: Beyond just liver support, Milk Thistle also fosters radiant skin, stable blood sugar levels, and a boosted immune response. It's nature's multi-tasker, working in synergy with your body's needs.

Supplement Facts
100 Servings Per Container Serving Size
Amount Per Serving: 
1 Softgel

% Daily Value
Milk Thistle Extract (Silybum marianum) 600mg
(Std. min. 80% Silymarin)

**Daily Value Not Established
Other Ingredients: Soybean Oil, Gelatin, Beeswax, Purified Water, Titanium Dioxide, Caramel

HOW DOES MILK THISTLE WORK IN BODY?
PROMOTES
LIVER FUNCTION*
HIGH ANTIOXIDANT PROPERTIES*
SUPPORTS
HEALTH &
WELLNESS*
ELEVATE YOUR HEALTH WITH
MILK THISTLE
Supplementing the antioxidant Milk Thistle has been shown to support liver function and overall health and wellness!
may improve
cancer treatment
can lower blood
sugar levels
it may help a person
immune response
PREMIUM INGREDIENTS ONLY
MILK THISTLE is made up of the following ingredients:


​Researchers also found in another study Trusted Source that milk thistle had antioxidant and anti-aging effects on human skin cells in a laboratory environment. A 2019 study Trusted Source also performed on cells in a lab found that the compounds in milk thistle may protect against the harmful effects of sun exposure, including slowing down skin aging.


Milk thistle is often promoted for its liver-protecting effects.

It's regularly used as a complementary therapy by people who have liver damage due to conditions like alcoholic liver disease, non-alcoholic fatty liver disease, hepatitis and even liver cancer (1Trusted Source, 5Trusted Source, 6Trusted Source).

It's also used to protect the liver against toxins like amatoxin, which is produced by the death cap mushroom and is deadly if ingested (7Trusted Source, 8Trusted Source).

Studies have shown improvements in liver function in people with liver diseases who have taken a milk thistle supplement, suggesting it could help reduce liver inflammation and liver damage (9Trusted Source).

FULL TRANSPARENCY
All products and labels are fully transparent with no proprietary blends, ever!
FULL TRANSPARENCY
Gshred uses only the highest quality ingredients, many are patented.​
FULL TRANSPARENCY
Ethically sourced high quality products. You'll always get what the label says.