THERMO IGNITE FAT BURNER
THERMO IGNITE is an Xtreme Super thermogenic Fat Burner designed to promote energy and thermogenesis throughout the day! Built with a blend of exotic natural stimulants, THERMO IGNITE  delivers clean and extreme energy for hours making it one of the most effective products for Shredding excess pounds on the market! IGNITE YOURSELF WITH THERMO EXTREME
INGREDIENTS:  
Theanine 75mg
Caffeine Anhydrous 250mg
Ácetyl-L-Carnitine 100mg
Green Tea Leaf Extract (50% EGG) 100mg
Theobroma Cacao Seed Extract 25mg
Rauwolfia vomitoria Extract 1 mg
Cayenne Powder Extract 10mg
Dicaffiene Malate 50mg
OTHER INGREDIENTS: Gelatin, Magnesium Stearate, Silica, Titanium Dioxide

Supplement Facts
60 Servings Per Container
Serving Size: 
1 Capsule
Amount Per Serving
Elevate your energy with
EXTREME THERMOGENIC
GSHRED Extreme Thermogenic is an Ultimate Energy and Focus Product designed to promote mental alertness and support energy and focus!
Boost focus and
concentration
Custom content
Describe your products, collection, content etc...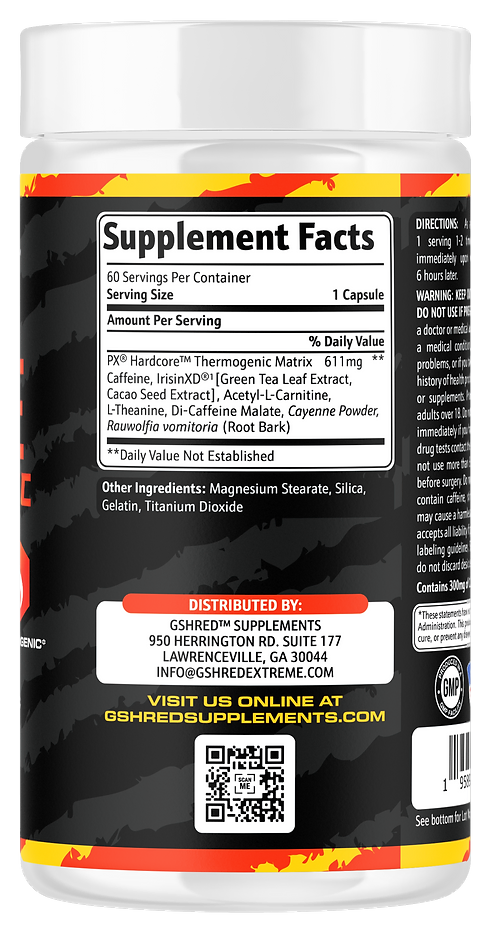 PREMIUM INGREDIENTS ONLY
Extreme Thermogenic is made up of the following ingredients to increase your Fat Burning process.
Caffeine IrisinXD (Green Tea Leaf Extrac
Cacao Seed Extract
Acetyl – L Carnitine
L- Theanine
Di- Caffeine Malate
Cayenne Powder
Rouwaolfia vomitoria (Root Bark)

FULL TRANSPARENCY
All products and labels are fully transparent with no proprietary blends, ever!
FULL TRANSPARENCY
Gshred uses only the highest quality ingredients, many are patented.​
FULL TRANSPARENCY
Ethically sourced high quality products. You'll always get what the label says.